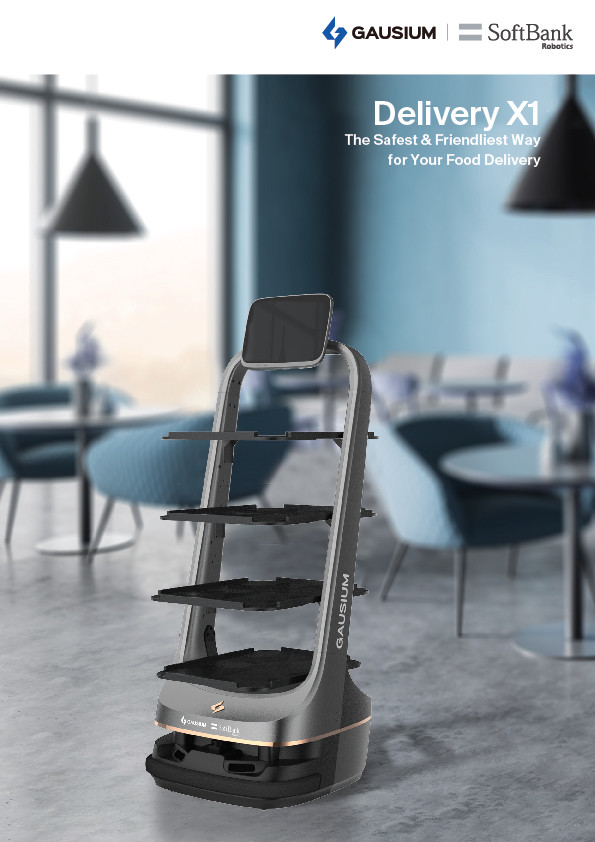 Tray Delivery Robot Delivery X1 will be exhibited at Food Service Exhibition in Melbourne
SYDNEY, Australia – April 30, 2023. SoftBank Robotics Australia has today announced its partnership with Sushi Machines, a wholesale distributor in Australia, and will start offering robotic and AI solutions for restaurants in Australia to optimize their business. Under this partnership, Sushi Machines will start offering Gausium's Tray Delivery Robot "Delivery X1" to their customers as part of their efficient, hygienic and consistent solutions that address ongoing worker shortages in the hospitality industry.
Sushi Machines will also exhibit Delivery X1 at their booth(E31) of Food Service Australia, the food service exhibition from April 30 to May 2 at Melbourne Convention and Exhibition Centre. Delivery X1, is a stylishly designed, yet highly functional tray delivery robot produced by one of our global partners Gausium (alias "Gaussian Robotics"). It leverages technological capabilities from Gausium and can safely transport and deliver large volumes of food and beverages as well as replenishment items on up to four trays. As a market leader in cleaning robots, Gausium's self-owned LAM (Simultaneous Localisation and Mapping) technology allows Delivery X1 to perform flexibly in complex, dynamic environments and can perceive and create semantic maps of its surroundings. In a restaurant setting, it can detect and avoid people, obstacles, and other objects while serving food, ensuring no disruption to its service or those around it.
Delivery X1 has its easy-to-use features, allowing fast deployment without a QR code for location and user-friendly software with flexible operations methods, scheduling tasks and controlling the robot through an intuitive touch screen or android mobile app. Restaurant owners can expect to use Delivery X1 as a complimentary feature alongside staff, providing support during rush-hours, and assisting in clearing dishes for cleaning. The introduction of robotic technology to support the human workforce can also provide an opportunity for staff to upskill and take on new roles, further improving efficiencies and
enhancing customer service to the diners.
Kenichi Yoshida, Chief Business Officer, SoftBank Robotics Group Corp. said, "Our collaboration with Sushi Machines Australia will provide Japanese restaurant technology solutions like tray-delivery robots among other SoftBank Robotics (SBR) solutions which will help transform the food and beverages industry towards a smart savvy efficient restaurant that can reap more sales for the food and beverages operators. We believe technology, robotics and IoT solutions will become more indispensable as technology adapts and grows smarter in the future.
Stuart Aamodt, Director of Sushi Machines Australia and New Zealand, shared, "With the introduction of SoftBank Robotics' and Gausium Robotics' tray delivery robot – Delivery X1 to our product offering, we will endeavor to bring across more efficient solutions to enhance the restaurant service. Our partnership with SoftBank Robotics marked a first for Sushi Machine in Australia to initiate robotics solutions to our customers as we continue to expand our offering.
Jolly Yang, President of Overseas Business of Gausium added "Gausium's products are best in class when it comes to combining navigation with artificial intelligence. Our solutions are developed to streamline efficiencies, save costs and support the workforce to upskill and increase productivity. With a history of achievements in empowering the facilities management industry, we are delighted to stepinto the food service industry and  work with SoftBank Robotics Australia to bring this innovation to Australia."
SoftBank Robotics Group
SoftBank Robotics Group, a leader in robot solutions, has been contributing to the technology's development since we launched Pepper, our first robot capable of recognizing human emotions, in 2014. There followed an AI autonomous cleaning robot in 2018, a multi-tray delivery robot in 2021, and automated logistics solutions consulting in 2022. We have offices at 12 locations around the world and our robots are used in more than 70 countries worldwide. Our vast, expanding trove of worldwide robot real-world data. The marvelous technology of our partners worldwide. As a robot integrator, these are the unmatched resources we are leveraging to meet every conceivable need of the developers who want robots to succeed and of the users who are eager to adopt them.
Sushi Machine
Sushi Machines are the exclusive agents for Autec commercial sushi robots, maki makers, nigiri machines and rice mixers. Sushi Machines supplies commercial sushi equipment to Australia, New Zealand and New Caledonia. Established by an icon of the sushi industry, Melvin Wee, Sushi Machines has been operating for over 15 years. New owner Stuart Aamodt spent last year learning the craft from Melvin before taking over the business. Prior to that, Stuart had 15 years running his own successful retail business. For the best customer service, best quality sushi machines at the most affordable price, trust Sushi Machine.
Gausium
Gausium (alias "Gaussian Robotics") was founded by Edward CHENG in 2013 out of a passion for autonomous driving. It started as a solutions provider of SLAM (simultaneous localization and mapping) and integrated robotics software. Today, Gausium has become a leading company of AI-powered autonomous cleaning and service robots with more than 4,000 successful deployments in 50 countries and regions. Currently, Gausium's products and services include commercial floor cleaning robots, indoor delivery robots and supplementary accessories like docking stations, cloud platform and application software.
For more information please contact:
Zeno Group for SoftBank Robotics softbank@zenogroup.com
Sarah Bamber, Zeno Group +61 456 646 714