Whiz and GERMii team up for sanitised facilities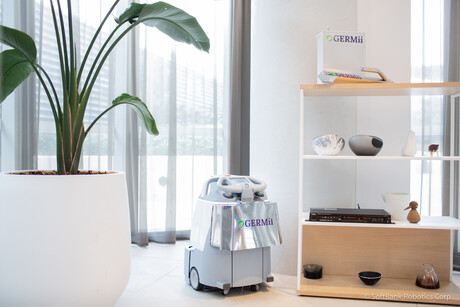 Using a trusted artificial intelligence (AI) platform, Whiz is an autonomous vacuum sweeper that has taken the cleaning of facilities to another level. In partnership with GERMii and its application of ultraviolet C (UV-C) pathogen irradiation technology, 99.9% efficacy sterilisation against pathogens like COVID-19 is now at the fingertips of facilities managers.
UV-C has been used for more than 40 years in the healthcare sector, and GERMii has proven that this technology can sterilise one hectare of surface area a week for less than the price of a bottle of hand sanitiser.
Whiz, an AI autonomous vacuum cleaning robot, has potential for value-add propositions when it comes to the automation of commercial processes that demand frequency, the highest quality and consistency, and three factors of thorough cleaning. Furthermore, with larger areas being sterilised autonomously, it allows cleaning and functions staff to focus on tasks like deep cleaning rooms after they've been used.
As employees start returning to their offices, employers have a heightened duty of care when it comes to workplace safety and cleanliness. By utilising this technology, employers have peace of mind to resume business as usual.
With GERMii's UV-C technology integrated into the Whiz vacuum sweeper, it allows facilities managers to take cleaning off their list, and focus their time on other areas of the building that may need attention.
GERMii has designed, locally built and used Australian-engineered technology to tackle COVID-19 at various sites during the height of the pandemic, including in ambulances, for flying doctors and in corporate environments. Time and time again, facilities managers are delighted with the option to provide a chemical-free process to sterilise their surfaces, while also avoiding harm to their occupants.
Typically, you can't have too much light on a surface, but the potential to use too many chemicals is a significant issue. Harsh chemicals also leave behind residue on these surfaces, but with UV-C technology, there is none. Moreover, using UV-C light to sterilise electronics provides huge benefits over using chemicals because the light cannot damage equipment.
Not only is it safer to use the Whiz autonomous vacuum cleaning robot with GERMii UV-C technology, but it also provides a more effective and natural clean, and purges viruses, bacteria and moulds — not just COVID-19.
The latest iteration of robots are incredibly safe and easy to use, which is important for facilities managers. Training is nearly non-existent, as the autonomous sweepers are exactly that — autonomous. GERMii UV-C handheld devices, or wands, are also available to sterilise high-touch, difficult areas, such as workstations, entry doors, elevator buttons and bathrooms.
Training for these takes around 10 minutes — if a person can use a flashlight, they are able to use a GERMii UV-C lamp to treat any surface. To ensure peace of mind for the facilities manager, the GERMii team provides full training with all systems as required.
For more information: germii.com.au.
Image © Softbank Robotics Group