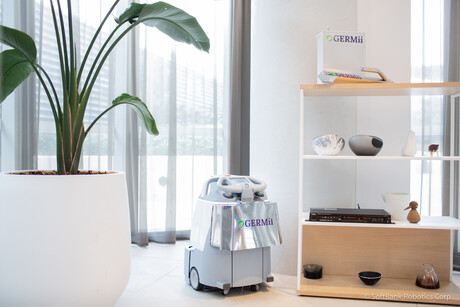 SoftBank Robotics partners with Australian company to create automated commercial floorcare cleaning and disinfection solution.
SoftBank Robotics Singapore has announced the launch of a two-in-one automated commercial floorcare cleaning and disinfection solution in partnership with Australian pathogen mitigation company, GERMii.
The partnership sees SoftBank Robotics Singapore combine the capabilities of its AI-powered flagship robot vacuum cleaner, Whiz, with GERMii's ultraviolet-C (UV-C) technology.
GERMii's collaboration with Whiz allows the robotic device to capture and kill pathogens both on the floor and in the air by harnessing UV-C technology to sterilise its path.
According to Softbank and GERMii, the solution is already in use in a number of sites around Australia and is being embraced by both the cleaning services companies and their customers.
GERMii specialises in the application of proven UV-C sanitisation or sterilisation technology designed, engineered and locally manufactured in Australia.
GERMii's technology has enabled the sterilisation of high-risk, unventilated areas such as aeroplanes in an unmatched 12 minutes, and hotel quarantine rooms in just five minutes.
Whiz works autonomously, allowing cleaning staff to focus on other higher value tasks while removing the cleaning staff of laborious large-scale cleaning and delivers cleanliness consistency in floor cleaning standard.
Kenichi Yoshida, chief business officer at SoftBank Robotics Corp, said the company is extremely proud to be collaborating with an Australian-born innovator in the fight against COVID-19 in the region.
"Our flagship robot, Whiz, in partnership with GERMii, will help tackle the real risks Australians face every day in quarantine hotels and other high-risk areas. With a heightened focus on eliminating any transmission from quarantine hotels and international flights, we are committed to plugging this gap by eradicating pathogens directly at the source to save time and help cleaners focus on areas unreachable by machines."
Harold Van Haltren, CEO at GERMii, said the partnership will be instrumental in the eradication of the COVID-19 virus in Australia.
"Although UV-C isn't a new technology, pre-COVID it was inefficient at removing bacteria from surfaces due to its low, slow exposure times. Driven to rid Australia of COVID-19, the GERMii team has developed a design that allows the mobilisation of UV-C, enabling effective steralisation in just seconds rather than hours.
"Our mobile device can now be bolted onto Whiz to create an incredibly powerful AI-powered sterilisation machine, and we're extremely excited to see this collaboration making Australian communities safer among the pandemic."