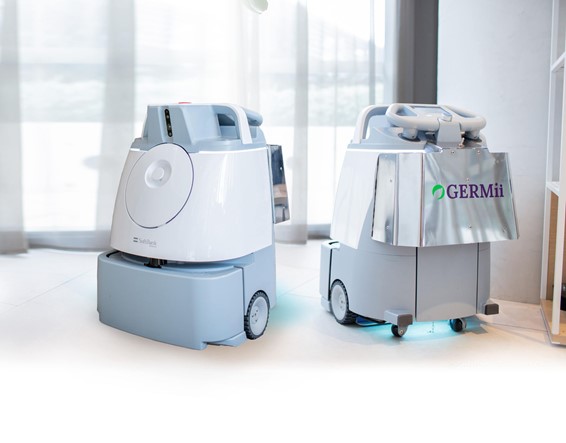 SoftBank Robotics partners with Australian-born pathogen mitigation company GERMii to create
GERMii UV-C for Whiz
 SYDNEY, Australia – June 2, 2021 – Leading global robotics company SoftBank Robotics Singapore(SBRSG), Asia-Pacific Headquarters of SoftBank Robotics Group, has today announced a new partnership with Australian pathogen mitigation company, GERMii, to help eradicate the COVID-19 virus in Australia, with the launch of a 2-in-1 automated commercial floorcare cleaning and disinfection solution GERMii UV-C for Whiz.
The partnership sees SoftBank Robotics Singapore (SBRSG) combine the capabilities of its AI-powered flagship robot vacuum cleaner, Whiz, with GERMii's unique ultraviolet-C (UV-C) technology that kills COVID-19 bacteria on contact. GERMii's collaboration with Whiz allows the robotic device to capture and kill pathogens both on the floor and in the air by harnessing UV-C technology to sterilise its path. This solution is already in use in a number of sites around Australia and is being embraced by both the cleaning services companies and their customers thanks to its ability to inactivate not only the COVID-19 virus, but all known, everyday viruses and pathogens such as gastro, influenza and Staphylococcus aureus (golden staph) Furthermore, while Whiz autonomously cleans and sterilises floors, it frees up cleaning staff to be able to wave the GERMii UV-C handhelds across high touch areas such as elevators, workstations and electronics to instantly sterilise surfaces against COVID-19 and other viruses and bacteria.
Australian innovator GERMii specialises in the application of proven UV-C sanitisation or sterilisation technology designed, engineered and locally manufactured in Australia. GERMii's pioneering technology has enabled the sterilisation of high-risk, unventilated areas such as aeroplanes in an unmatched 12 minutes, and hotel quarantine rooms in just five minutes.
Whiz works autonomously, allowing cleaning staff to focus on other higher value tasks while removing the cleaning staff of laborious large-scale cleaning and delivers cleanliness consistency in floor cleaning standard.
Mr Kenichi Yoshida, Chief Business Officer at SoftBank Robotics Corp. shared "We are extremely proud to be collaborating with an Australian-born innovator in the fight against COVID-19 in region. Our flagship robot, Whiz, in partnership with GERMii, will help tackle the real risks Australians face every day in quarantine hotels and other high-risk areas. With a heightened focus on eliminating any transmission from quarantine hotels and international flights, we are committed to plugging this gap by eradicating pathogens directly at the source to save time and help cleaners focus on areas unreachable by machines."
"This marriage of two best-in-class products will be instrumental in the eradication of the COVID-19 virus in Australia." Harold Van Haltren, CEO at GERMii shared. "Although UV-C isn't a new technology, pre-COVID it was inefficient at removing bacteria from surfaces due to its low, slow exposure times. Driven to rid Australia of COVID-19, the GERMii team has developed a design that allows the mobilisation of UV-C, enabling effective steralisation in just seconds rather than hours. Our mobile device can now be bolted onto Whiz to create an incredibly powerful AI-powered sterilisation machine, and we're extremely excited to see this collaboration making Australian communities safer among the pandemic."
Organisations interested in GERMii UV-C for Whiz solution to their cleaning teams to protect against COVID-19 and other pathogens should get in contact with GERMii Australia at help@germii.com.au or
SoftBank Robotics Singapore at whiz-apac-sales@softbankrobotics.com.
SoftBank Robotics Group
SoftBank Robotics Group is driving technology forward by becoming a worldwide leader in robotics solutions. Rapidly expanding with offices in Tokyo, Paris, London, San Francisco, Boston, Shanghai, Beijing, Shenzhen, Hongkong, Singapore, and Sydney, SoftBank Robotics Group is constantly exploring and commercializing robotics solutions that help make people's lives easier, safer, more connected, and more extraordinary. There are currently over 35,000 SoftBank Robotics robots, Pepper, NAO and Whiz, used in more than 70 countries worldwide and offer innovative applications relevant in the fields of retail, tourism, healthcare, finance, education, facilities management and cleaning.
GERMii
GERMii is an Australian headquartered engineering science and innovation company, driving exciting change in the fight against pathogens such as COVID-19 through the design, development, manufacturing and distribution of market first UV-C technology.  With a quickly growing distribution network throughout the Asia Pacific region and beyond, GERMii specialises in pathogen mitigation using proven UV-C germicidal irradiation technology. The name GERMii is an abbreviation for germicidal irradiation, which is the application of light energy to destroy germs and pathogens. Using light rather than chemicals on robots, handhelds, chambers, air conditioning systems and more, GERMii's strategic pillars centre around cleaner, safer and lower cost of service pathogen mitigation to protect people and business. Today GERMii has deployed solutions into major sectors including but not limited to banks, large retail headquarters, emergency services organisations and healthcare. The future looks brighter.
###
For more information please contact:
Robyn McLellan, PR for SoftBank Robotics
+61 447 926 736